I need all my bloggers and Nomad•ness TV faithfulls on deck with this one!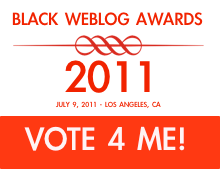 There is only one week left to vote for the Black Weblog Awards 2011!
Nomad•ness TV is nominated for Best Travel Blog 2011...we need your votes!
Online voting ends on June 17th, 2011! That's in exactly 1 WEEK!
CLICK HERE TO VOTE! We are CATEGORY #28 on PAGE 4!
Let's get this! To all my blogger friends, I'll be sending you a copy of the press release with more information!
Thank you so much everyone! Let's blow this thing out of the water! It's not about the winning for me. It's about all the hard work, sweat, money, and passion that is put into this site, this series, and this movement. It's about making sure that Nomad•ness TV is etched into as many brains as possible. Legitimacy is the name of the game. Thanks for all yor help! Adoring you guys...vote and promote!